Bible teacher and author
Peter and Vivien Wade have ministered the Word of God together in pastorates, seminars, and family camps for 60 years and have maintained a website since 1995.  Peter has authored numerous books and ebooks, which are noted for their simplicity and ease of reading even though the subjects can be profound. His writings, videos, and audio teachings appear on this site, as does the Wade's history. Vivien has two paperback collections of poems available. Peter and Vivien live in a quiet beach-side area of metropolitan Adelaide, South Australia.
Check Out These Popular Books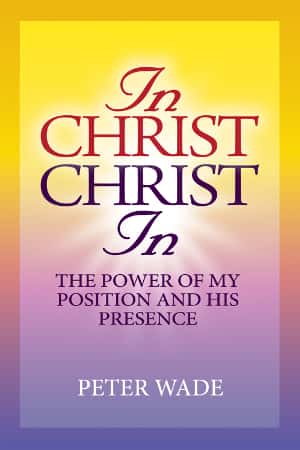 IN CHRIST, CHRIST IN
This book defines the foundation for Peter Wade's ministry. He teaches that being "In Christ" is the power of our position. That is our location. "Christ In" us is the power of his presence. That is our strength. When God placed us in Christ, He placed Christ in us. We need to recognize both truths. Jesus taught it and Paul revealed its depth and permanence.
Click To Buy Here: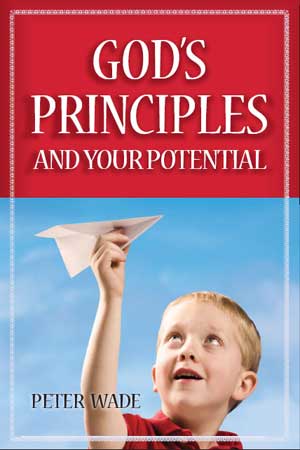 GOD'S PRINCIPLES AND YOUR POTENTIAL
It will come as a surprise to many Christians that God is not a God of capriciousness but a God of principle. We can rely on God to fulfill His Word always, just like we can rely on the principle of gravity. This truth takes the strain and stress out of Christian living, and makes it an exciting venture.
Click To Buy Here:
GOD'S SEEDS AND SECRETS
Two books in one! God's command to Joshua is used as a foundation for eight secrets of success. An example of the mental principles you need to apply covers the record of the 12 spies unnecessary journey into the Promised Land. You will learn that you are IN-dependent when you have Christ within, not co-dependent on others. You really can be a victor, not a victim. 
Click To Buy Here:
See the whole catalog of Wade books now, all based on Peter's perceptive insights into God's Word and written in a simple yet profound style.
What People are Saying about Our Books
"In general I was very blessed to read this manuscript, which I copiously highlighted and made notations on. We need to experience what God has for us, and you have done a good job bringing this out. Being in Christ is a comprehensive statement. It is foundational, the ABCs of the Christian faith. Being in Christ takes us from A and brings us to Z."
"My Gracious friend and brother, once again I feel the need to say thank you for being used of God to be a tremendous blessing to me. I have just reread the writings on EXPECTATION and the book about being a NEW CREATION… WOW…How the Spirit works!!.. I am in Christ and Christ is in me… the certainty of glory or me winning in every situation… thanks once again, sir."
"Thank you, Peter. what a beautiful, encouraging word, to read the word as a love letter from our Dear Lord, I will be sharing this with my friends."
You can watch video seminars on "In Christ, Christ In" and "Dead to Sin, Alive to God." You can listen to (and download) around 70  audio teachings.  You can read over 200 pages of teachings by Peter Wade and great teachers of the past. You can download a complete list of all usages of "In Christ" for your own study. For daily Bible readings you can download a plan to read the New Testament in one year… and many other joys await you. See the footer area on every page for links to all the above extras!