In Christ, Christ In seminar, with Peter Wade, covers what God did for us on that wonderful day when we first accepted the Lord Jesus Christ as our Savior. What was the result of our faith in Christ? What is our identity? What kind of help do we have along life's way? Peter defines being "In Christ" as the power of our position. That is our location. "Christ In" us is the power of his presence. That is our strength. When God placed us in Christ, He placed Christ in us. We need to recognize both truths. Jesus taught it and Paul revealed its depth and permanence. There are 12 segments.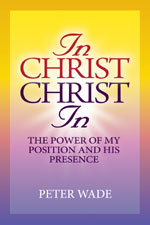 Now in stock: In paperback, revised, as the book "In Christ, Christ In: the power of your position and his presence." To listen to other segments, click on the Playlist at the top left corner of the black surround.
Dead to Sin & Alive to God seminar covers Romans 5:12 to the end of chapter 8. Based on the key verse of Romans 6:11, "Likewise you also, reckon yourselves to be dead indeed to sin, but alive to God in Christ Jesus our Lord", this series is ideal for personal study or home fellowships. Segment 1: Covers the key verse Romans 6:11 and then Romans 5:12 to 6:3. Segment 2: Discusses the powerful truths in Romans 6:4-8. Segment 3: Continues in Romans 6 with verses 9-11a. "Know" and "Reckon". Segment 4: Romans 6:11b-16 and introduces the concept "Present yourself". Segment 5: Concludes Romans 6:17-23 and then Romans 8:1-4 and "Walk". Segment 6: Romans 8:5-39 and the power of our walk in the spirit. Segment 7: Commences Romans 7 with two illustrations in verses 1-6. Segment 8: Romans 7:7-25 — the passage most Christians use to stay defeated!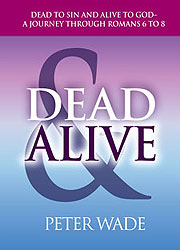 Now in stock as a paperback, revised, as the book "Dead & Alive: A journey through Romans 6 to 8." . To listen to other segments, click on the Playlist at the top left corner of the black surround.
God Wants You to be Prosperous by Peter Wade. Recorded in the 1990s in a Melbourne, Victoria, Australia church, this teaching has been converted to text as chapters 12 to 14 of Peter's book Four Keys to Prosperity. It was given as part of a family camp in association with Norman Campbell. Peter shares from Luke 15 the story of the "prodigal son" and how it applies to finances. Our thanks to Ross Knight for making this classic video available. Enjoy!