As we continue our exploration on enjoying the Bible, in our last teaching I made the point that some scripture is written directly to the church age in which we live, as shown by "the address on the envelope," but we can learn from the parts addressed to other groups. Before we go deeper into the books addressed to us, let's look at the rest of the Bible.
In a quirk of verse numbering by Robert Estienne in 1555, both Matthew 4:4 and Luke 4:4 contain essentially the same words of Jesus. "It is written, Man shall not live by bread alone, but by every word that proceedeth out of the mouth of God" (KJV). The Message paraphrase reads, "It takes more than bread to stay alive. It takes a steady stream of words from God's mouth."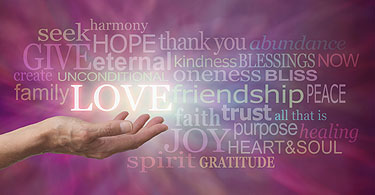 Jesus was being tempted by Satan and in reply is quoting directly from Deuteronomy 8:3: "And he [God] humbled you and let you hunger and fed you with manna, which you did not know, nor did your fathers know, that he might make you know that man does not live by bread alone, but man lives by every word that comes from the mouth of the Lord" (ESV).
One commentary says, "Now, if Israel spent, not forty days, but forty years in a waste, howling wilderness, where there were no means of human subsistence, not starving, but divinely provided for, on purpose to prove to every age that human support depends not upon bread, but upon God's unfailing word of promise and pledge of all needful providential care, am I, distrusting this word of God, and despairing of relief, to take the law into My own hand?" (Jamieson, Fausset and Brown).
So let's get the impact of "every word." Our personal faith is encouraged and strengthened by "every word" in the scriptures, "a steady stream of words," so long as we partake of them. Jeremiah discovered a missing parchment and he wrote, "Thy words were found, and I did eat them; and thy word was unto me the joy and rejoicing< of mine heart" (Jeremiah 15:16). One preacher put it something like this, "You can't live on just one cold meal on Sunday morning and nothing the rest of the week, and expect your faith to work." You need a "steady stream" of "every word."
This is why there are so many daily devotional books on the market. People like to read just one verse and then someone's comment on it. That's a good place to start, but I'd rather encourage you to get a daily reading chart, like one that has you reading the whole New Testament in one year. Here's one that is free and you can download and print out.
You'll read a chapter from the New Testament five days each week, finishing the New Testament in 52 weeks. The Bible was written as a series of books, and each book is meant to be read from start to finish. This means you don't get to just read the parts you like, but "every word."
Many of us were blessed to be brought up in a home where the Bible was believed, like Timothy in the New Testament. "I am reminded of your sincere faith, a faith that dwelt first in your grandmother Lois and your mother Eunice and now, I am sure, dwells in you as well" (II Timothy 1:5). "And that from a child thou hast known the holy scriptures, which are able to make thee wise unto salvation through faith which is in Christ Jesus. All scripture is inspired by God, and and is profitable for teaching, for reproof, for correction, and for training in righteousness, That the man of God may be equipped, fitted out for every good act" (II Timothy 3:15-17).
In verse 16 we have the phrase "All scripture is inspired by God" [God-breathed, KJV). This is the same truth as in Matthew 4:4, "… every word that proceeds out of the mouth of God." Then we are told this scripture is "profitable…" for four purposes which enable us to be equipped for every thing that we will ever run across. These purposes are teaching, reproof, correction, and training in righteousness, and we need all of them!
So enjoy your Bible, every word of it, not just on Sundays but 24/7, as modern street language terms it. [/fusion_builder_column][/fusion_builder_row][/fusion_builder_container]