Positive Words Inc. is a trans-denominational teaching ministry incorporated in Oregon, USA. It is a non-profit organisation for the teaching of God's Word, and is operated entirely by volunteers. The outreach of the organization is made possible solely by gifts from interested Christians. It was founded in 2013 to provide North American and believers worldwide access to the teaching ministry of Peter Wade and other teachers, past and present. To learn more about Peter Wade, we have a page devoted to his history and Australian ministry.
Positive Words is evangelical in doctrine, believing that the rightly divided Word of God is the sole guide for faith and practice. It teaches a positive, practical, and positional expression of Christianity, emphasizing the reality of Christ in you and you in Christ. We believe in the Apostles' Creed, an early statement of Christian belief widely used by a number of Christian denominations for both liturgical and catechetical purposes.
How to contact us
Worldwide —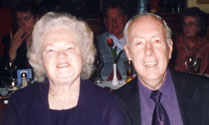 Peter Wade, an Australian by birth, was brought up in a Salvation Army family, met his wife Vivien in the Church of the Nazarene (also like the Salvation Army a Wesleyan church) and they married in December 1957. Both believed in their call to the ministry and went to the Life Bible College (a Pentecostal bible college) in Victoria Park, Perth, Western Australia. In March 1958 they were assigned to pastor their first church in Fremantle, a port city near Perth, and then commenced ministry on Easter Sunday 1959 at the Brighton Street Church, North Cottesloe, a beachside suburb, and enjoyed a productive season for the next six years.
Peter visited the USA for three months of summer school in 1965 and then returned to Australia to pastor the Taperoo Assemblies of God in Adelaide, South Australia. Eighteen months later they were invited to return to the US with their two boys and lived in Ohio for three years. Here they ministered widely across eastern and midwest USA and many friends were made during this time. They returned to Australia in 1970 and founded Positive Word Ministries Inc. as a teaching ministry, and later the Community Christian Church which they pastored for nine years. In 1995 their first website commenced online and it enabled them to minister to thousands of believers worldwide and continues to this day. Many books have been made available plus audio and video teachings.
A more detailed history of the Wades can be found on this page.