Our e-Books are in the popular Kindle format. Free readers for your computer, tablet, or smartphone are available from Amazon.com. Contact us for Epub formats for other readers.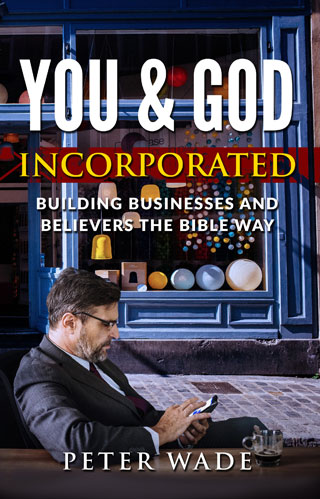 You & God Incorporated
In this book I share with you ten intensely practical "How To" chapters which were written to help you develop a partnership with God and live out the Christ resident within you. Whether you own a business or not, you will be inspired by putting these truths into practice in your life.
These teachings were first given to a fellowship of believers, of whom the majority were businessmen and women. But now that I have committed these teachings to print, I am completely convinced that the truths they contain are applicable to all Christian believers in most of life's situations.
Buy the $6.98 Kindle Version at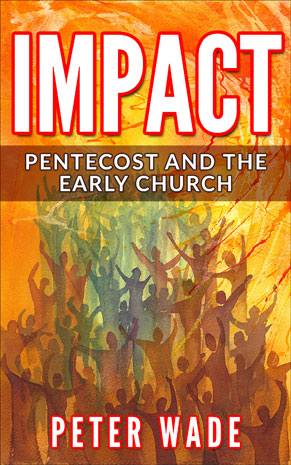 Impact: Pentecost and the Early Church
The Apostles were suddenly "thrown in at the deep end," having witnessed the death of their leader, his resurrection, and then on the day of his ascension, his command to stay in the city until they received "power from on high." They realized that something was going to happen but had no details and certainly no accurate grasp of the full impact that this promised event would have on them – or on humanity!
Based on his unaltering foundational belief that the Bible is the "God-breathed" Word of God, Peter Wade brings his newest and best work to you. Focused on the first six chapters of the Book of Acts, the book is "filled to overflowing" with scripture, and Peter Wade brings discernment and insight from a lifetime of Bible study to its pages.
Buy the $6.98 Kindle Version at
Enjoy Your Bible: and understand it too!
The Bible is not enjoyed because the Bible is not understood. In this book Peter Wade leads you through the first simple steps to understanding what the Bible is saying. Read what is written in an essentially literal translation. Mark your Bible to aid your memory. Chapters, verses, history, narrative, letters. Look for repetitions, contrasts, comparison. Take note of the little words that have big impact, such as prepositions. Accept the integrity of God's Word. All this and more in 14 powerful chapters with many examples, the wisdom of a lifetime of Bible teaching.
Buy the $3.99 Kindle Version at
In Christ: A New Creation
This challenging book takes a fresh look at what God has made us to be in Christ. You will discover that understanding the New Testament concept of a New Creation will bring contentment, prayer will be revitalized, miracles will become normal, and God's guidance will be recognized and acted upon. Six chapters, 15,300 words approx.
Buy the $3.99 Kindle Version at
Living in the Flow of God's Supply: Giving and Receiving
This inspirational book is a positive and practical guide to the supply of your every need. Shortages, credit squeezes, financial crises, are things of the past as you apply God's principle of giving and receiving and enjoy to the full a life that is more than abundant. 31 chapters in four sections: Sowing the Seed, Cultivating the Crop, Reaping the Harvest, and Applying the Principle.
Buy the $4.94 Kindle version at
The Grasshopper Philosophy
God's Word gives solid information about who we really are as compared to what we think we are! This is illustrated by the record in Numbers 13 and 14 and the unnecessary mission of the 12 spies into the promised land of Canaan. From the negative report of the majority, two spies painted a positive picture and said, "We are well able…" Follow this amazing record and discover why you can't afford the luxury of a negative thought.
This ebook is Part Two of the paperback book "Seeds and Secrets" by Peter Wade, available from Amazon or direct from https://www.peterwade.com/books/. The book also contains "God's Seeds of Greatness," "God's Secrets of Success," and "Be a Victor, not a Victim."
Buy the $2.99 Kindle version at
God's Seeds of Greatness: Everybody is a Somebody with God!
Never has there been a greater need for Christians at this time to comprehend the Bible truth about God's plan for His family. This book is an introduction to the wealth of truth concerning the greatness God wants His children to express. It takes as a foundation the first three chapters of Genesis. If it can be demonstrated that God's will for Adam was greatness, then His will for believers today must be for them also to enjoy His Seeds of Greatness. Are you ready for this life-changing discovery?
This ebook is Part One of the paperback book "Seeds and Secrets" by Peter Wade. Available from Amazon and https://www.peterwade.com/books/. The book also contains "The Grasshopper Philosophy," "God's Secrets of Success," and "Be a Victor, not a Victim."
Buy the $3.99 Kindle version at
God's Secrets of Success
"God's Secrets of Success" are secrets not longer! He has plainly set them out in the Bible for all who belong to His family. This inspiring and challenging book is based on God's charge to Joshua as recorded in Joshua 1:8. With the task of leading 1.5 million people out of the wilderness into the promised land, Joshua was encouraged to fill his mind with God's Word, and "then He would make his way prosperous, and then he would have good success."
God has not changed, and the same principles applied in Bible days are just as effective today. The author has selected eight secrets or principles of success and presents them in logical order. Bible characters are used as illustrations of the principles at work, and the reader is motivated to practice these simple yet powerful truths.
This is a book for all who feel that they have not yet developed their potential to the fullest. New Christians and long-time Christians will gain much from this positive Christian approach to success. It could be the turning point of your life.
The book is combined with "God's Seeds of Greatness" in the paperback book "Seeds and Secrets" by Peter Wade. For all his books see his Amazon author page at www.amazon.com/author/peterwade/.
Buy the $3.99 Kindle Version at
La Dinámica del Vivir Positivo
(Spanish)
"La Dinámica del Vivir Positivo" es un libro desafiante, apuntado a la única fundación segura para el vivir exitoso. La Biblia solo revela La provisión de Dios para la vida del creyente, y en la medida en que usted ajuste su pensamiento a la verdad, usted podrá ahondar en Sus recursos para una vida positiva y próspera. Los quince grandes capítulos de este libro lo inspirarán a verse ¡como bendito con lo mejor del Cielo! ¿Por que vivir por debajo cuando lo mejor está disponible para usted? Usted tiene el poder para enfrentar cada situación en que se encuentre, y salga victorioso cada vez.
Buy the $4.94 Kindle version at
En Cristo: Una Nueva Creación (Spanish)
Este libro desafiante toma una nueva mirada a lo que Dios nos ha hecho estar en Cristo. Usted descubrirá que la comprensión del concepto del Nuevo Testamento de una nueva creación traerá la alegría, la oración se va a revitalizar, los milagros se convertirá en normal, y la guía de Dios será reconocido y actuar en consecuencia. Seis capítulos, 15,570 palabras aproximadamente.
Buy the $3.99 Kindle version at