In a recent post I shared the importance of Jesus' statement, "Man shall not live by bread alone, but by every word that comes from the mouth of God" (Matthew 4:4 and Luke 4:4 [ESV], quoted from Deuteronomy 8:3). The Word of God is the first "food group" of our daily intake and should not be missed.
John's gospel gives us more insight into the source of "every word" in the last part of the verse from Matthew and Luke: "that comes from the mouth of God." Paul made it plain and concise when he wrote, "All Scripture is given by inspiration of God" (II Timothy 3:16 NKJV). The words "inspiration of God" are one word in the Greek and only used here. It literally translates as "God-breathed" and many modern versions translate it that way. 
Let's start our exploration of John's gospel with John 8:31-32: "So Jesus said to the Jews who had believed in him, 'If you abide in my word, you are truly my disciples, (32) and you will know the truth, and the truth will set you free'" (ESV). "Hold fast to My teachings and live in accordance with them" (AMP). Three important truths are given in these two verses. It is like an "if, then, else" statement in computer syntax. 
First, "if you abide," also translated "continue, dwell, remain." Jesus was speaking to the Jews and pointed out that it is not enough to be saved by believing in Him, but you must by your will abide in the Word continually. You have your ticket "to the sky" but in accepting it you joined the family of God. You are now in an enduring relationship and not just a visitor for a few days.
Second, "[then] you are truly my disciples." The word "disciple" carries with it a lot of religious tradition, such as seen by the controversial "discipleship (shepherding) movement" of the 1970s and 1980s, as well as in many extreme churches and cults. The original word can be better translated "learner." It comes from the verb "to learn", and by learning you increase your knowledge of spiritual matters (see Vines Expository Dictionary). It does not mean to obey "blindly" but to get an understanding of why you should act in this way. "He made known His ways to Moses, His acts to the people of Israel" (Psalm 103:7). To be a learner is to know and understand God's ways. 
John 8:32 continues the "then" statement, "and you will know the truth, and the truth will set you free" (ESV). "Know" here is "to come to know, or understand completely" (Vine). As many have pointed out, it is only the truth that you know that will set you free. If you don't know that the immeasurable greatness of the power that raised Christ from the dead is in you (Ephesians 1:19), then that aspect of truth is not being activated by you on a daily basis. It all starts with abiding, remaining in the Word.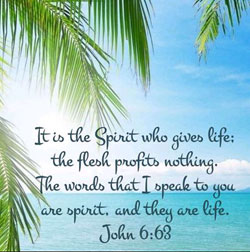 Another verse in John reads, "The words that I have spoken to you are spirit and life" (John 6:63). These words are not just black or red characters printed on a piece of paper, but when you abide in them you will discover they are powerful, spiritual words that have a life of their own. They are as up-to-date as tomorrow's newspaper, and effective whenever you need them to take care of whatever you run across. So surely you would want to abide in them, understand them, apply them. The writer of Hebrews puts it this way, "For the word of God is living and active, sharper than any two-edged sword, piercing to the division of soul and of spirit, of joints and of marrow, and discerning the thoughts and intentions of the heart." Now that's a "wow" statement.
Back to John chapter 8. Read on from verse 33 down to the end of the chapter and you will discover that if you do not abide in the word then you are not a learner and you will not get the results of the knowledge available. In computer syntax, this is an "else" statement.
So how did Jesus get the words he spoke? Did he prepare his teachings like I was trained to do, outlining the points he would make and build up to a conclusion? No, John's gospel makes it clear that he made no prior preparation. In other words, he spoke extemporaneously or "on the fly." We were trained to take an outline with us to the pulpit that could fit on to half a sheet of paper, just to keep us on track. If we needed any more than that it was proof we did not know our subject well enough! Yet the Jesus way is better than what we were taught.
"He who sent me is true, and I declare to the world what I have heard from him" (John 8:26b). "I … speak just as the Father taught me" (John 8:28b). "I speak of what I have seen with my Father" (John 8:38). "But now you seek to kill me, a man who has told you the truth that I heard from God" (John 8:40). "For I have not spoken on my own authority, but the Father who sent me has himself given me a commandment — what to say and what to speak. (50) And I know that his commandment is eternal life. What I say, therefore, I say as the Father has told me" (John 12:49-50). 
The secret of Jesus' teaching was that he had a direct line to God! And you do too! "Central's never busy, always on the line; You may hear from heaven almost any time; 'Tis a royal service, free for one and all; When you get in trouble, give this royal line a call" (Frederick Lehman, 1919). 
Jesus even trained the twelve in this technique, to be used when they were brought to trial: "And whenever they may be leading you off, to give you over, do not worry beforehand what you should be speaking, neither be meditating, but whatsoever may be given to you in that hour, this be speaking, for it is not you who are speaking, but the holy spirit" (Mark 13:11 CLV). 
There are still another sixteen verses in John that I have not covered. However, there's plenty of truth above to assimilate. I plead with you to "abide in the word" constantly and enjoy the victorious life that the Father has prepared for you. — Peter Wade.