I read on Facebook recently a post from a minister I have personally known for 50 years, who has been told by his physician that he is dying after a four-year battle with disease. I pray that he will recover. In one of 500+ comments on the post, a follower wrote along these lines: "Come on church, this is serious. We all need to pray and fast for 24 hours" et cetera. And I said to myself, "Really?" What follows is not a criticism of my fellow minister or his followers, but a rebuttal of an area of Christian thinking.
I strongly believe in prayer that is based on God's written Word, and many of you do also. There are hundreds of references. In the Old Testament God said, "Before they call I will answer; while they are yet speaking I will hear" (Isaiah 65:24). Jesus instructed his disciples to "Ask, and you will receive, that your joy may be full" (John 16:24). Paul instructed the believers to "pray at all times in the Spirit, with all prayer and supplication" (Ephesians 6:18), and James stated that "The effective, fervent prayer of a righteous man avails much" (James 5:16 NKJV).
We sing about prayer most weeks in our services. "What a friend we have in Jesus | All our sins and griefs to bear | What a privilege to carry | Everything to God in prayer." Vep Ellis in 1941 wrote the American gospel song, "I know He heard my prayer | He knows my every care | He gives to me the blessed victory | Oh yes! I feel Him now, my loyalty I vow | I know the Savior heard my plea." Listen to it on YouTube.
There is a place for corporate prayer, when believers are gathered together in fellowship. "Corporate prayer isn't about getting enough people together to pray until God bends His will to our will. Instead, prayer (corporate and private) is about cooperating with God and abandoning our desires and submitting to God's will. In fact, Matthew 6:8 says, '…for your Father knows what you need before you ask him'" (allaboutprayer.org).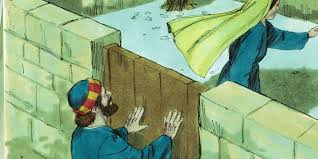 In the book of Acts there is a humorous account of the church praying for Peter to be let out of jail. "So Peter was kept in prison, but earnest prayer for him was made to God by the church" (Acts 12:5). Peter was let out of jail by an angel, and went to the house of Mary, the mother of John, "where many were gathered together and were praying" (verse 12).
He knocked on the door to try to get into the prayer meeting and Rhoda came and recognized Peter's voice but in her excitement left him standing there. When told that Peter was at the door, those who were praying said to Rhoda, "You're crazy" (MSG) and "It must be his angel." Finally someone opened the door and those praying were "amazed" that their prayers worked! The prayer meeting turned into a praise meeting.
So what's the problem with getting many believers praying and fasting for 24 hours? Or praying with a lot of shouting and speaking in tongues as I've heard in my Pentecostal background? The problem is that noise is not power, and quantity is not quality! These things are being done because of a belief in a reluctant God, and perhaps with multitudes praying for the same issue it just might get God's attention. Job 23:13 says an interesting thing: "He is in one mind, and who can turn him?" God is not changeable.
This is common in Christianity today — prayer chains, either by telephone or email, trying to get more people praying for some need. A book could be written on the subject, but I just want to get you thinking that there is something wrong with the concept. What on earth would you do if you were the only one living on a tropical island?
I've written many times about the similar fallacy of a capricious God. This also has no basis in God's Word, as God is not a respecter of persons. "Our God is a God of principle, not capriciousness" (from God's Principles and Your Potential.) And our God is not reluctant at all. He wants everyone to be saved (II Peter 2:9), He has blessed His family with all spiritual blessing (Ephesians 1:3), we are complete with Him (Colossians 2:10 NKJV), and we could go on and on.
>> Please leave a comment below!