The above title, "Stop the World, I Want to Get Off!" is taken from a Broadway musical that was popular in the United States in the 1960s and revived in the 1980s. It concluded with the song "What Kind of Fool Am I?". The title of the play is said to have been derived from graffiti seen by the author, and it reminds us all of those times when we think we'd just like to end it all. People might say, "I'm just so sick of this constant grind that I want to throw in the towel." Christians, too, take up the slogan when they say, "I'm sick and tired of battling daily with Satan over sin and sickness. Stop the world, I want to get off!"
And on top of that? Wars, global recessions, possible pandemics, planet warming, and on it goes.
What can we do when this defeatist view threatens to overtake us? Our answer is found in the experience of a man who lived 3000 years ago, who found himself in this same situation several times. His name was David, the great king, and he gives us his secret in a psalm he wrote, Psalm 103.
"O my soul, bless God. From head to toe, I'll bless his holy name! O my soul, bless God, don't forget a single blessing!
He forgives your sins–every one.
He heals your diseases–every one.
He redeems you from hell–saves your life!
He crowns you with love and mercy–a paradise crown.
He wraps you in goodness–beauty eternal.
He renews your youth–you're always young in his presence.
"God makes everything come out right; he puts victims back on their feet. He showed Moses how he went about his work, opened up his plans to all Israel. God is sheer mercy and grace; not easily angered, he's rich in love. He doesn't endlessly nag and scold, nor hold grudges forever. He doesn't treat us as our sins deserve, nor pay us back in full for our wrongs. As high as heaven is over the earth, so strong is his love to those who fear him. And as far as sunrise is from sunset, he has separated us from our sins" (Psalm 103:1-12 The Message Bible).
In the first two verses the psalmist is addressing himself, and seems to be saying something like this: "Stop your hurried existence, pull yourself together, and take stock. Take a little time to thankfully count your blessings." Yes, the pause that refreshes is not Coca-Cola but a time of meditation over what God has done for you.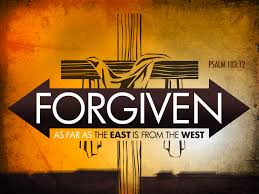 "Forget not all his benefits" says David. And Benefit No.1 is the greatest of them all–Forgiveness. "Who forgives everyone of all your iniquities!" This great benefit is mentioned again in v.10 onwards– "He has not dealt with us to the measure of our sins, nor rewarded us as our iniquities deserve… As far as the east is from the west, so far has He removed our transgressions from us." The greatest benefit God can give to man is forgiveness for his many sins.
Benefit No. 2 is for the physical body, Healing. "Who heals each of all your diseases." The Bible lists by name 37 diseases, and there is not one word to indicate that God will not heal us of any disease, provided we meet the conditions He has laid down.
One of the special names of God, Jehovah-Rapha, is given to us in Exodus 15:26, "I am the Lord that heals you." Why has God made provision for our physical body? in verse 14 it is said of God that "He knows our frame; he remembers that we are dust." God's knowledge of our need always brings God's provision for our need!
Benefit No. 3, given to us in verse 4, is Love. "Who beautifies, dignifies and crowns you with His loving-kindness." This truth is amplified for us in First Corinthians chapter 13, where the word "charity" has been translated "God's love in your heart." It is only through this benefit that we are able to do what God has said–for instance, "Love your enemies."
Benefit No. 4 the. psalmist considers as God's Mercy. "The Lord is plenteous in mercy," verse 8. "The mercy of the Lord is from everlasting to everlasting" verse 17. God is ever dealing with us on the basis of undeserved favor, if so be that we reverentially "fear him" (verse 17), and "keep his covenant" and "remember his commandments to do them" (verse 18).
Benefit No. 5 is Satisfaction of soul with good material things. "Who satisfies your mouth with good things" (verse 5). God is totally good and what He gives is likewise very good. "Every good and perfect gift is from above, and comes down from the Father" (James 1:17) When you invite God to guide your life, you receive an inward sense of spiritual satisfaction. God will also satisfy all your physical needs!
Finally, Benefit No. 6 is mentioned in verse 5 also, "So that thy youth is renewed like the eagles." An eagle is a good example of a strong, overcoming bird able to soar to great heights. But perhaps the psalmist's meaning here refers to the annual molting time, when new feathers are exchanged for old. Isaiah 40:31 says, "But those who wait for the Lord shall change and renew their strength and power," that is, they shall exchange their strength for God's strength. This then means a Constant Renewal of the soul, that will and does provide renewal for the physical body also.
Stop The World? No, let's stop and consider all the great things that God has done for us. And remember, it would be useless to stop the world and get off if you have not made preparation for the time when you will leave the world and go to your eternal state without God. The greatest benefit is God's forgiveness for your sins so you can become a member of God's family. Have you asked Him to do this for you?
(Translations used in this teaching were the KJV, Berkeley Version, AMP, MSG, ESV.)