"Are not five sparrows sold for two pennies? And not one of them is forgotten before God. Why, even the hairs of your head are all numbered. Fear not; you are of more value than many sparrows" (Luke 12:6-7 ESV; see also Matthew 10:29-31). "Look at the birds of the air: they neither sow nor reap nor gather into barns, and yet your heavenly Father feeds them. Are you not of more value than they?" (Matthew 6:26)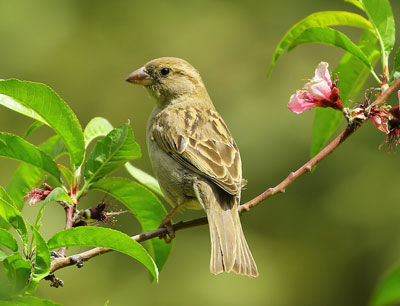 What a simple yet powerful illustration given by Jesus of God's comfort and care for those who believe in Him. These small birds are plentiful in Israel, and even in the time of the gospels were of very little value. Yet God knows they exist and He keeps track of them.
Sometimes a small bird will fly at great speed and hit our front window with a thud! The window has a slight reflective image and I think the birds see our front garden reflected in them. Recently, one died as a result of this accident. And God knows about it!
You are worth much more than "many sparrows" to your loving heavenly Father, and He wants only the best for you. "Encourage yourself" (Judges 20:22; I Samuel 30:6) in the Lord, and "blossom where you are planted." You are valuable in God's sight, and that really is all that really matters. "Precious [that is, costly] in the sight of the Lord is the death of his saints" (Psalm 116:15).
This is so beautifully expressed in the song lyrics by Civilla Martin, written in 1905 and made famous to a new generation by Ethel Waters at the Billy Graham crusades. Charles Gabriel wrote the music (a challenging piece to play on a keyboard in the original key of D flat, now usually in the key of C!).
Why should I feel discouraged, why should the shadows come,
Why should my heart be lonely, and long for heaven and home,
When Jesus is my portion? My constant friend is He:
His eye is on the sparrow, and I know He watches me;
His eye is on the sparrow, and I know He watches me.
Chorus: I sing because I'm happy,
I sing because I'm free,
For His eye is on the sparrow,
And I know He watches me.
"Let not your heart be troubled," His tender word I hear,
And resting on His goodness, I lose my doubts and fears;
Though by the path He leadeth, but one step I may see;
His eye is on the sparrow, and I know He watches me;
His eye is on the sparrow, and I know He watches me.
He sure does, and I am so glad, so take comfort from His care over you. — Peter Wade
Photo by Daniyal Ghanavati from Pexels